Climbing is a normal stage of development for any child. It proves to promote motor skills, strength, confidence, and creative vision. And of course, it is just an exciting process for them. So do not try to stop your child from climbing. You can consider purchasing specially designed furniture, which is actually a must-have for parents.
What Is the Purpose of Climbing Furniture?
What do we know about Emmi Pikler? She was a brilliant Hungarian pediatrician. She introduced this method of gross motor skills' development. The approach was about the freedom of movement, independent activity, individuality, and natural development of motor skills. The Pikler climbing furniture was designed on the basis of this approach. Its main purpose is to teach through moving and exploring various surfaces. It can be used for children aged from 6 months to approximately 6 years. The kid should challenge his courage through this play. Using climbing structures stimulates gross motor skills that kids should acquire during the first 3 years of life.
The furniture set may be composed of such items as different ramps, triangles, arches, and cubes. They form a circuit with a range of obstacles that a child should overcome.
A Pikler cube is a separate item that is created to provide a variety of surfaces to explore. With its help, children learn to distinguish between various geometric shapes. The double-sided ramps can be used as slides, ladders or climbers. A climbing arch is an item that may help to improve gross motor skills and develop spatial imagination.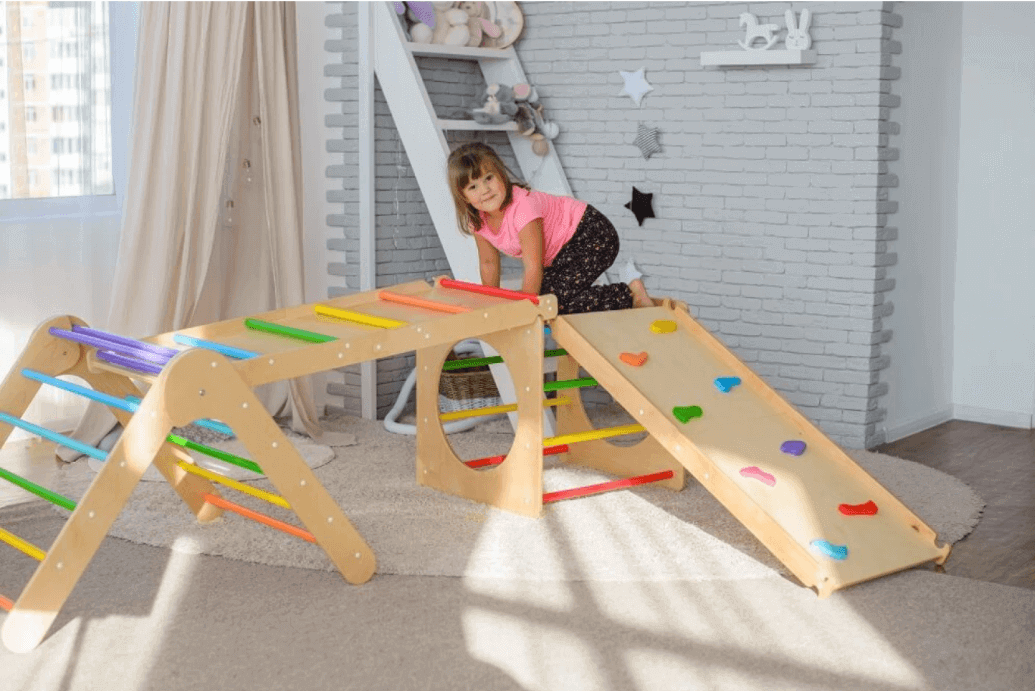 A Pikler triangle is a transformable climber, which probably one of the most well-known climbing toys. It is created to be a foundation for different development stages. For instance, small children first play under the toy. When they start to pull themselves up, they may grip the rungs to stand. So it also develops grip skills. When children become older, they start climbing over the triangle and learn how to balance. At this stage, you may add other items to form a set.
Choosing this furniture for your child comes with these benefits:
Motor skills development.
Entertainment purposes.
Encouragement of self-confidence and problem-solving.
Development of concentration, balance, and creativity.
This type of furniture may complement busy boards that are designed to develop fine motor skills, the perception of colors and shapes. The combination of these educational tools will surely make your child busy and happy.
Is Pikler triangle Safe?
It is safe as long as there is proper supervision. Children can trip, slip or fall from any other type of furniture if they are not supervised. Any Pikler climber should stand on a sturdy surface when used. It is recommended to allow kids to explore it independently, but watch them from a short distance and assist if needed.
BumbleBee Smart produces its wooden furniture using only organic and eco-friendly materials. This is the company's priority. The furniture is covered with 100% safe non-allergic water-based paint. All the items are built to last. They are light and can be easily moved from one place to another.
If you are looking for natural toys to help your child develop and reach new heights, then definitely consider climbing furniture.