WHAT I really like about teaching here at the Regional Science High School is that you get the chance to participate in a lot of seminars and workshops. This workshop, Active Learning in Optics and Photonics (ALOP), that I am attending now at the UP-NISMED is one of the many trainings that are given exclusively to science high school teachers.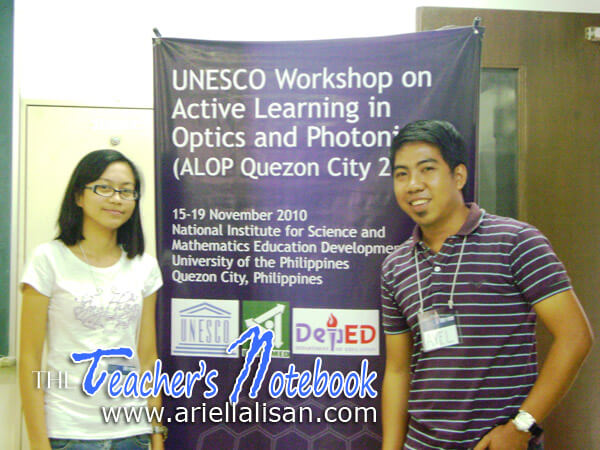 The ALOP is a project of the UNESCO, which aims to better equip university and high school teachers to teach optics in the introductory physics course. The ALOP team has developed hands-on and minds-on activities that teachers could use in delivering the lesson to their students. I am an advocate of constructivism and connectionism, so Active Learning is not a totally different approach for me.
The local organizing committee, that is the National Institute for Science and Mathematics Education (UP-NISMED) here at UP Diliman invited 36 participants from the different Regional Science High Schools, science-oriented schools and laboratory schools, and Higher Education Institutions in the country.
We had our opening program this morning and we were introduced to the ALOP Team: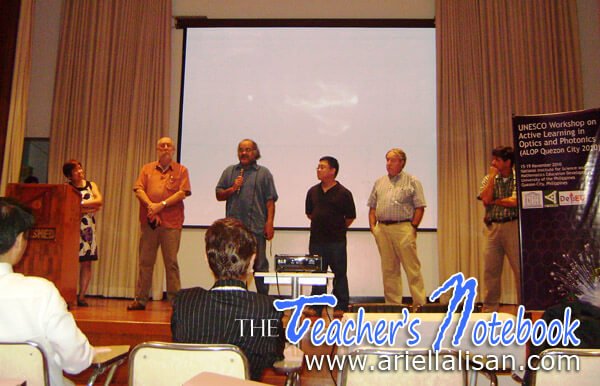 From Left to Right:
Minella Alarcon , Workshop Director and ALOP Project Coordinator, Philippines
Alex Mazzolini , Facilitator, Swinburne University of Technology, Australia
Vengu Lakshminarayanan , Facilitator, University of Waterloo, Canada
Joel Maquiling , Facilitator, Ateneo de Manila University, Philippines
David Sokoloff , Facilitator, University of Oregon, Eugene, USA
Ivan Culaba , Facilitator, Ateneo de Manila University, Philippines
After the opening program, we had sharing of information where we had the chance to introduce ourselves and we also shared how we teach physics in our respective schools. I think it is important for the speakers and facilitators to know our backgrounds and our ideas in teaching physics.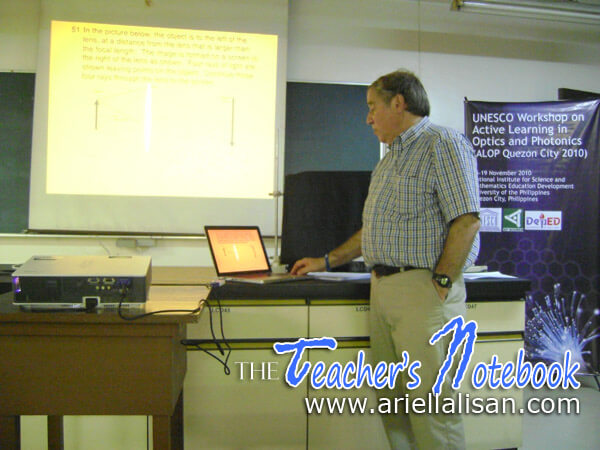 After the lunch break, David Sokoloff introduced to us the ALOP project. The ALOP workshop we are having right now is the 14th workshop to be held since they started about six years ago. The team has conducted this workshop to other developing countries in the world like Morocco, Tanzania, Tunisia, India, and Chile, among others.
He also discussed the background of Active Learning the researches that led to the conception of this novel approach in teaching.
We also took the Light and Optics Conceptual Evaluation (LOCE) that the ALOP Team developed. It sure was a brain-cracker but I appreciate how the questions were framed. They really measure conceptual understanding.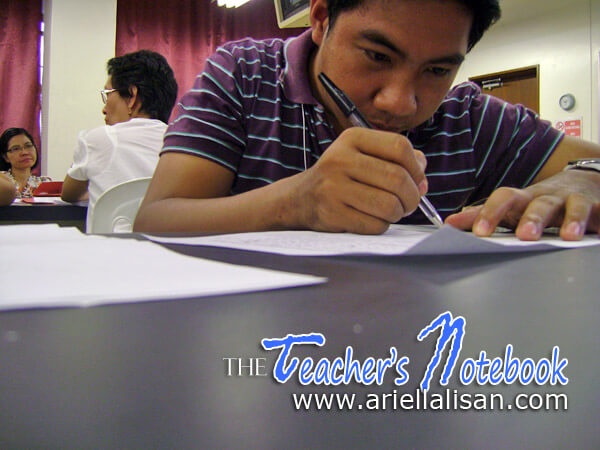 Tomorrow, we will officially begin the workshop. We will learn many different activities we could use in the classroom. Hopefully, I will be able to make learning physics even more fun when I go back to my station.