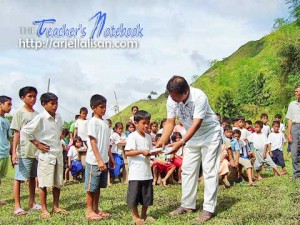 In Photo: Mr. Romeo Casalan during the Tuloy and Pasko ng mga Bata sa Kiangkos.
WE ARE down to the last few school days of 2010. Next week, the Christmas break begins, and we are expected to have the luxury of time to do whatever we wish to do.
I know of some people whose vacations have already been planned ahead. So I asked my co-teachers here are Alabel National Science High School about their plans.
Mrs. Conchita Medelo is going home to the town of Ipil, Zamboanga Sibugay to spend time with her family. Her old students are also giving her a treat to the famous Dakak Resort in the Shrine City of Dapitan.
Most of us are spending the holidays with our family. Another co-teacher, Mrs. Ivy Grace Grafilo says that it is a must for us to spend time with our family because most of the time, we are pre-occupied with our jobs and whatever tasks we're given. As a result, the quality time we spend with our families is lessened.
Some are also attending reunions, which are usually done during the Christmas vacation. Mrs. Julieta Damicog will be attending family reunions, while Mr. Daniel Zabala will meet with alums from the school where he graduated.
"Break away from my routine," is what Mrs. Aleli Dasmariñas suggests.
But what activities can we do to break away from our routines?
For those who still haven't planned their vacations, here are some suggestions:
1. Go on a Family Outing.
The best way to spend quality time with your family is to go somewhere and do activities together. There is the water-tubing activity in Maitum, the white sand beaches of Gumasa Glan, Sarangani Province, among others. You can ask Go Sarangani Travel & Tours for assistance.
If budget is the problem, there might be inexpensive activities you could do. My family always goes to the beach during the vacation. It's just near our home and, most importantly, it's free. We have lots of fun grilling fresh fish or barbecue by the seashore. We also never miss to rent a videoke machine and our self-acclaimed family of singers would sing our hearts out. Other than that, you can do sports like Frisbee, beach volleyball, etc. You can also watch movies together, eat out together, go to church together, etc.
2. Do some Charity work.
Christmas is the season for giving. For sure there would be charity work you can participate in like that of your church or the organization you are a part of. The SoCCSKSarGen Bloggers , for example, are going back to Kinilis for a medical-dental mission, gift-giving and fun day. Our church, the Alabel Alliance Church, as we usually do, would also be identifying needy families whom we will sing Christmas carols to. But instead of asking for money from them, we will be giving them clothing and food that the congregation pitched in.
If you have no affiliations like that, you can organize your own in your neighborhood or give something for your favorite beneficiaries. They may even be your relatives. It's about time to check your closet if there are clothes you no longer wear but are still in great condition and give them to the less fortunate ones. If you have more than enough, you can buy new ones and give them away.
3. Do some Gardening. Plant some Trees.
For one whole year, we each contribute to the degradation of our environment. Why not spend a portion of the holidays doing something for Mother Earth? Just plant one tree and a couple of plants in appropriate locations and take care of them. Within a year, they might already be able to provide a little shade, or flowers, or fruits, and sequestered a few pounds of Carbon Dioxide. On the average, a mature tree can sequester about 50 pounds of CO2 in a year.
4. Grab the book you're dying to read.
Usually, I would buy a book every time I have some cash to spare but I don't read them right away. I store them in my shelf and read them during my idle time. I would read a few chapters of several books at one sitting.
It would be different if you are on a holiday. While you are at a family outing and you have some idle afternoons by the beach. Wow, that for me is the best time to read books.
5. Create some handicrafts, make something out of your hobby, or learn something new!
I squeezed these suggestions into one not because my title says Five Ways not Six or Seven, but because they are all related to each other.
What I mean by this is to create something tangible about things you are passionate about. If it is photography, you can take pictures of the places you visit and make something out of your photos. Photography enthusiasts would always take pictures but these pictures just end up in the computer hard drives or online accounts. Seldom do they make handicrafts out of their photos. Thisou can frame them, turn them into place mats, lamp shades, etc. And you can give them away as gifts! Here are some ideas for your photos.
If you are into writing, this vacation might be time for drafting your novel or short stories. If you are into graphic design, now might be the best time to learn new techniques in using your favorite software and make sure you have an output.
My co-teacher, Mr. Rolando Nerpiol, will explore his artistic side in painting with watercolor. That would be great, right?
After doing any of these things, you can tell yourself when the new year comes, "My vacation wasn't put to waste."
So, how are you going to spend your Christmas vacation? Share your thoughts.