THE K+12 Basic Education Program that the Department of Education plans to introduce in SY 2011-2012 is seen to produce graduates who are more skilled and better prepared for the world of work, entrepreneurship, or higher studies.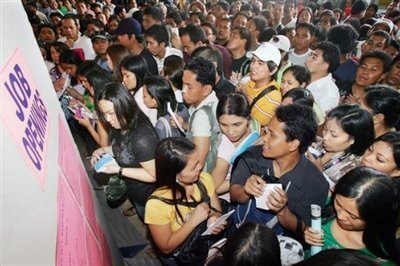 Let us focus on their preparedness for work. The discussion paper published on the DepEd website mentioned that the government will coordinate with the business sector as regards their hiring policies.
The government wants the business sector to look at K+12 graduates as skilled workers and not as mere high school graduates. Also, by the time the students finish the K+12 curriculum they are already 18 years old and could be legally hired. Thus, K+12 graduates have better chances at working as regular employees.
On the other hand, due to the oversupply of unemployable graduates, finishing the K+12 curriculum is still not an assurance that most of the graduates would land jobs.
A great number of college graduates today end up in call centers and shopping malls, working in jobs they did not go to college for.
Even if these graduates went through four years in college, they still could not find a suitable job in the country. How much more when K+12 graduates would start competing with them in getting these jobs?
Another thing, since college would be seen only as on option, I bet there would be fewer graduates who would attempt to earn a college degree since they can already start working after senior high. So, in the long run, we would have have fewer professionals and plenty of skilled workers.
A neighbor who now works as a laborer in a nearby lumberyard told me once that he did not pursue basic education because he could not take being in school for six years. He said he preferred to start working early.
Although his perspective must be influenced largely by the situation of his family, we could not deny the fact that many of our young people today think like him. Adding two more years in what seems to them an eternity of schooling would further dampen their interest in school. I am imagining –not hoping, though — of high dropout rates.
Filipinos, in addition, are also not very receptive to change. Many of us would choose what is nakasanayan na (the norm), over better alternatives. It would then take a lot of information campaign and a great deal of adjustment before the K+12 plan would be acceptable to them.
*Photo from here