MY WHOLE family listened to my interview on Bombo Radyo GenSan last Sunday. When I returned home, my Nanay told me, "I never thought your project is this big."
I knew what my mother meant. She did not expect us to go to great lengths in terms of promotion and getting a lot of people and organizations involved in the project.
Yes, I don't consider our Bottle School Project a smalltime one. I have special reasons for pursuing this project.
Education for Real Life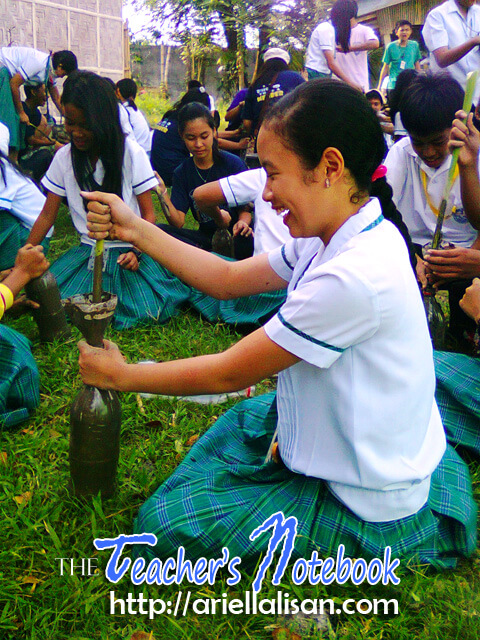 I have always believed that the best lessons are taught outside the classroom and that learning is best when the learner sees real life applications of what is being taught.
With the ANSHS Bottle Classroom Project, we are doing just like that.
In school, we teach our students to take care of the environment. What could be better than letting the students to actually take part in efforts that contribute to the protection and conservation of the environment?
We teach them that science plays an important role in the community. With the Bottle School Project the students can participate in a scientific way of addressing our problems — increasing non-biodegradable waste and shortage of classrooms. They take part in turning the problem into a solution.
In physics, we teach them about strength of materials and optimizing structures. Through this project, the students themselves can see and take part in constructing a disaster-proof structure from waste materials.
Together, We Can Do More
Even in Social Studies, the Bottle School Project can be used to demonstrate that a community that works together can make things happen. We envision the bottle school project as project not only of the ANSHS Alumni Association and the Junior Ecologist Ministers (JEM) for Mother Earth, but of the whole community. We can teach them the value and dignity of labor. They can also imbibe the spirit of volunteerism. We can use to explain the concept of synergy.
Beyond the Bottle Classroom Project
We have many other plans after the classroom from plastic bottles has been completed. We will continue to do more projects involving the recycling of plastic bottles.
Initially, we have planned to furnish the classroom with decors made from recycled materials. Furthermore, in my Advanced Physics class, we will try to build useful gadgets made from trash — a radio receiver made from used plastic bottles and magnetic wires from broken electric fans and that doesn't require batteries will probably be one of them.
We would also be exploring the use of empty plastic bottles for a hydroponics lab and demonstrate how it can be used for food production.
In other words, the building of a classroom from bottles in only the start of this advocacy. We are very hopeful that we can turn all our visions into reality and we will definitely use them to teach our students more meaningful lessons.
Photo courtesy of Rolando Nerpiol, Jr.