I WAS awakened by the sound of a siren around six o'clock in the morning. I thought it was a wake-up call from my fellow mountaineers. Still tired from yesterday's trekking, I shuffled out of the tent only to realize that my comrades were still sleeping. I rubbed my eyes and saw several kids entering the school campus. Isn't it a holiday today? I asked myself. When I saw some of them carrying bass drums, snare drums, xylophones, and tambourines I knew that they were going to rehearse for the drum corps competition.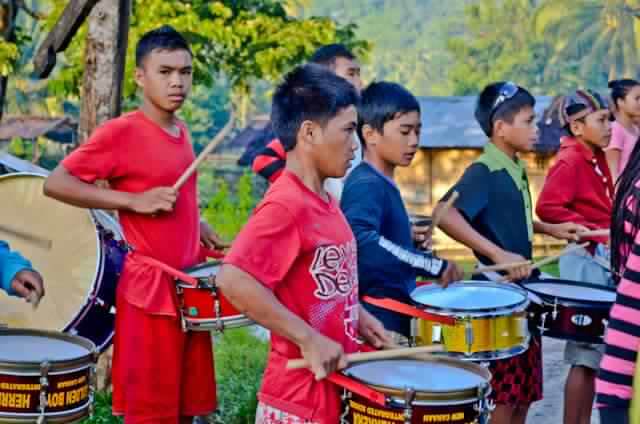 "It is the first time for New Canaan Integrated School to participate in the Kasadyaan Festival's drum corps competition," said Jimuel Villamor, a teacher in the said school and trainer of the drum corps.
Sir Jimuel took advantage of the holiday to train the kids on playing the instruments. Instead of taking his time off with his family in the town, he chose to go up the mountains and teach the kids.
"The competition is getting closer, so we have to double time," he added.
Last month, the school received musical instruments for the drum corps from Golden Boy Herrera, a businessman and philanthropist. The school administration wanted to hire a trainer but no one dared to accept the job because Sitio New Canaan is a far-flung village in Barangay Pag-asa, a barrio in the outskirts of Alabel, Sarangani Province.
In order to reach the area, you have to endure a death-defying motorcycle ride from the Poblacion to Sitio Sofan through a rocky, muddy, sloping, and winding trail for an hour or two. You would then have to traverse hills and cross the meandering knee-deep (sometimes, deeper) river several times for three hours.
They started playing familiar tunes while the majorettes performed the usual choreography. I was quite surprised to find out that those kids learned to play well in a short span of time despite the fact that it was their first time to get hold of those instruments. None of them has ever seen an actual drum corps playing, but Sir Jimuel was creative enough to show them a video.
"How about their uniform, sir?" I asked. Looking at the huts of villagers and observing their way of living, spending for a band uniform, I think, is simply an extravagance.
He said, "Mr. Herrera also sponsored the majorette's outfits — all 17 of them." He also said that the parents are supportive of their kids and are willing to spend for their uniform in spite of poverty.
I also had the chance to talk to the president of the school's Parent-Teacher's Association (PTA), Romeo Domato. I learned that he is also a student in the school. He is currently in his second year. One of his daughters is in third year, another is a freshman.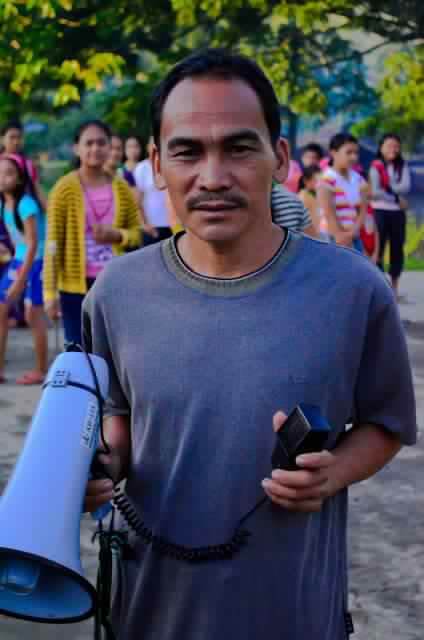 "I wanted to finish high school, that is why I enrolled," he revealed. "There are fifteen of us here who are already married. Some of the band members are even married."
The drum corps is not the only improvement in New Canaan Integrated School. The school is also a recipient of the Class-Dorm Project of Sagittarius Mines, Inc. They built a dormitory for the pupils who used to walk several miles through perilous trails just to reach the school. The project hits two birds with one stone. It also addresses the shortage of classrooms because the dormitory also doubles as classroom during the day.
Mr. Domato expressed that they are glad that Schools Division Superintendent Allan Farnazo, himself, visited their school last month and inducted the officers into office.
"I hope that they will give us more teachers here. That is our biggest need at the moment," Mr. Domato said.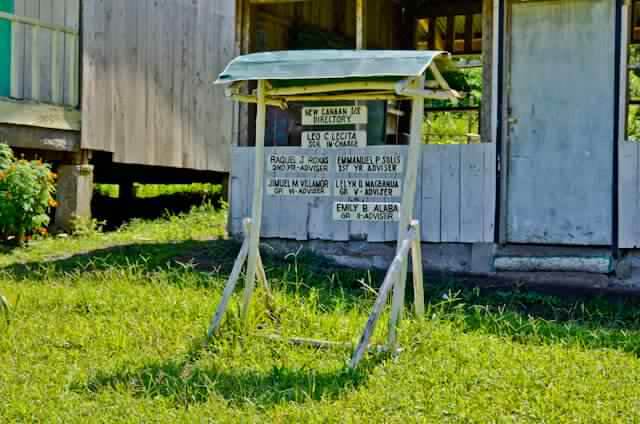 Sir Jimuel explained that there are only six teachers in New Canaan Integrated School including the school-in-charge, yet they are offering complete elementary classes and three classes in the secondary level. That is a total of nine classes. To address the shortage of teachers, they grouped together two classes in the elementary under one teacher: Grades I and II, Grades II and IV, and Grades V and VI.
The problem, however, is that the elementary pupils are too many. "How could learning be possible when you combine 123 Grade I pupils with more than 80 Grade II pupils?" Sir Jimuel emphasized the urgency of assigning more teachers for New Canaan.
Mr. Domato also pointed out that if only the roads to New Canaan are better, more teachers would be willing to accept a teaching job there. Better roads would also mean fast-tracking of progress in the area. It would be easier for the farmers to deliver their produce in the town and for the government to deliver social services for the people of New Canaan.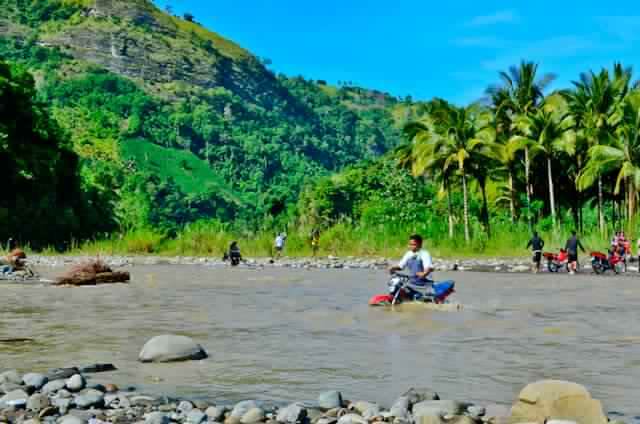 The lead majorette blew her whistle that signaled a ten-minute break and the kids scampered to drink water to find a shade.
The New Canaan school band to me is a symbol of hope. I could not wait to watch them perform on September 7 at the Alabel Municipal Gymnasium. Winning the competition would surely be very hard for them, but they can easily win the hearts of those who will hear their story.