SOPHOMORE STUDENT Hanna Cartojano bagged the top prize in the recently concluded Buwan ng Wika 2011 Blog Writing Contest organized by the Alabel National Science High School-SAKAFIL and The Teacher's Notebook.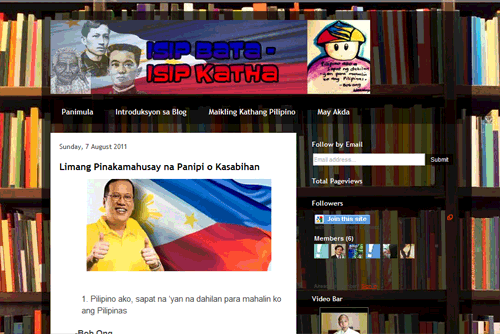 Cartojano bested 14 other contestants with her posts in her blog called Isip-Bata, Isip-Katha in the month-long blog writing contest.
"It's her creativity and varied approach in discussing the weekly theme that made her blog posts stand out from rest," said Rolando Nerpiol, Jr., ANSHS faculty member, who was one of the judges.
Here is the complete list of winners:
First Place – Hanna Cartojano , II-Cattleya
Second Place – Ena Eloisa Manlapig , III-Schrödinger
Third Place – Charles Quinanahan , I-Earth
Fourth Place – Achaemenid Panuncillo , III-Newton
Fifth Place – Jewelle Mae Solijon , IV-Diamond & Airish May Agulan , IV-Diamond
A special award was given to the Most Interactive Blog based on the blogger's ability to encourage discussion and it went to Jewelle Mae Solijon.
The winners will receive a shirt from The Teacher's Notebook and a Certificate of Recognition.