EVERY YEAR the Department of Education's National Education Testing and Research Center (NETRC) administers the National Achievement Test in the elementary and secondary levels. It seeks to assess the competencies learned by the students in the subjects, English, Science, Mathematics, Filipino, and Araling Panlipunan.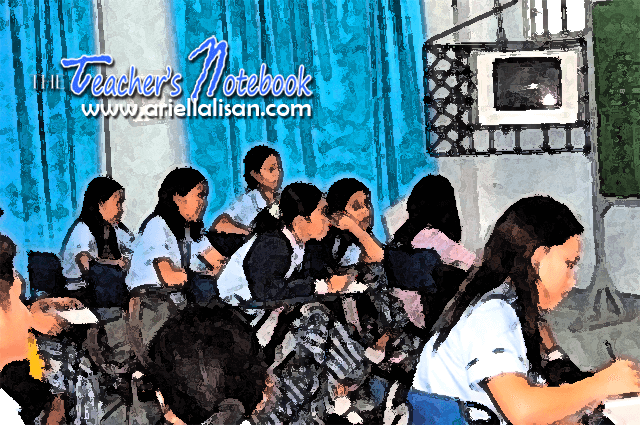 The Department of Education utilizes the results of the exam to evaluate whether the schools are effective in teaching the standard competencies set by the department. The results should also guide the administrators and the teachers in planning learning interventions for the students.
Here is how the Mean Percentage Score (MPS) is interpreted:
75% and above indicates mastery of the subject
50% to less than 75% indicates near mastery
Below 50% indicates low mastery
In the past years, our school have an MPS that is above mastery. However, our administrators do not find it sufficient. Being a Science High School, we are being pressured to reach up to 90% or even higher, if possible.
Why the pressure? They fear that other schools would have an MPS that is higher than ours.
And then it happened. A school in a far-flung area had a higher MPS than our school in the Regional Achievement Test. How could that happen?
A few years ago, most schools recorded very high increase in their MPS. Some schools had increased their MPS by more than a 100%, while we decreased by about 8%. Statistically improbable right?
Then we begin to question the reliability of the National Achievement Test. I am not the first person to criticize the test and I don't have material evidence to claim that there really are irregularities in the conduct of the test. But I know the intention of some school administrators why they'd like to manipulate the results of the test.
First, the NAT is viewed as a tool that measures the school's effectiveness. If the school does not perform well in the NAT then they are rendered ineffective. Who would want to be labelled ineffective?
Secondly, administrators compete against each other. Even if they already get an acceptable MPS in the past years, they have to make sure that they are on top of other schools, divisions, or regions. Highly competitive ones would really do their best to attain their goals by hook or by crook.
Whatever the reasons, I believe that it is never good to cheat in the NAT. How could the DepEd gauge the true performance of the students that is indicative of the effectiveness of the current system of teaching in the schools? How could we design appropriate learning interventions if we don't have an accurate picture of the situation in the schools? What values do we, educators, exemplify to our students if we ourselves do not ensure honesty in the administration of the NAT?
The NAT 2011 will be administered on March 10. I hope and pray that it will be carried out honestly this time.