AlSci implements new entrance exam scheme
Alabel National Science High School (AlSci), the Regional Science High School for Region XII implements this year a new scheme in the screening process for the incoming freshmen of school year 2012-2013.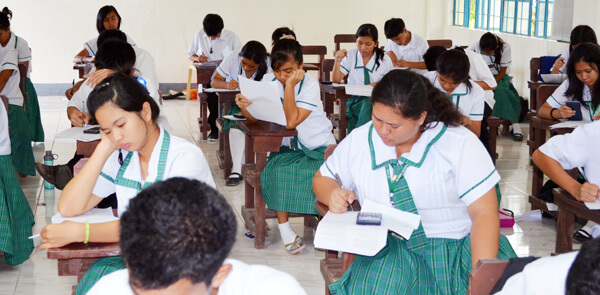 With the goal of reaching out to more schools, the AlSci Faculty and Staff will be visiting the different districts of Sarangani and the different divisions in Region XII to administer the entrance exam.
Application forms are now being sent to the different schools and the deadline for the submission of application forms is on December 2.
The entrance examinations will begin on December 6 in the different schools identified as testing centers.
December 6, 2011
Morning
Glan Central Elementary School
Pangyan Central Elementary School
Glan Padidu Elementary School
Afternoon
Malapatan Central Elementary School
Lun Padidu Elementary School
December 7, 2011
Morning
Malalag Central Elementary School
Pangi Elementary School
Kiamba Elementary School
Lomoyon Elementary School
Afternoon
Maasim Elementary School
Rogaya Bajunaid Elementary School
December 8, 2011
Morning
Malungon Central Elementary School
Malandag Central Elementary School
Banate Elementary School
Afternoon
Alabel National Science High School
Alegria Central Elementary School
There screening process will still be done in three phases: 2 written examinations and an interview together with the parents.
Grade six pupils who belong to the upper 10% of the graduating batch are qualified to take the exam.
Applicants must submit the following:
duly accomplished application form
certification from the principal that the applicant:
a) belongs to the upper 10% of the graduating batch (Grade VI SY 2011-2012);
b) is healthy;
c) possesses good moral character;
d) have grades of at least 85% in English, Science, and Mathematics for the 1st and 2nd grading period (photocopy of card); and
e) is not more than 15 years old in June 2012.
All applications must be filed and submitted to Alabel National Science High School, Alabel, Sarangani Province, or to OIC/ASDS Evangeline I. Pacumba of Sarangani Division Office.
The school will no longer collect an examination fee.
Keep posted for the detailed schedule and list of requirements. Contact (083) 508-2228 for inquiries.