I WROTE in the Teacher Strengths and Needs Assessment (TSNA) last year that I need to be trained in varied tools for assessment. Notwithstanding the focus on authentic assessment and performance tasks, standardized tests are still in the paper-and-pencil format, er, multiple choice questions. I am glad that our supervisors decided to organize a write-shop on the subject, and I have learned that multiple-choice questions can be made more reliable and their discrimination index improved by looking at research-based guidelines and criteria in writing good test items.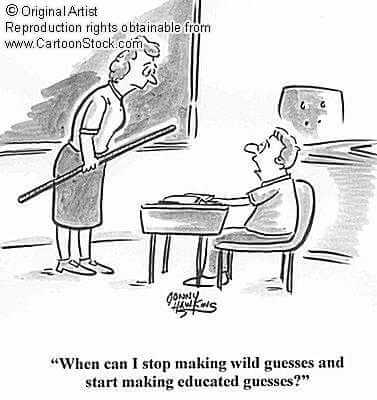 The most important insight that I have gained is that the test should measure what we ought to. That calls forth alignment of assessment to the learning objectives.
Which reminds me: When I attended the Understanding by Design (UbD) training at the UP-NISMED in 2009, I have learned that before planning instruction, we have to think first of the end result. A clear vision of the end result gives direction to the planning process, and that means, we have to plan the acceptable evidence or the standards first before crafting strategies that will enable the students to attain the learning objectives. Doing so helps ensure that the objectives, the strategy, and the assessment are all aligned.
I have kept that in mind since. After learning about the guidelines that our speakers relayed from a training they participated in last summer in Cebu, I can now fine tune the test questions I have prepared in my four-year (almost) teaching experience. When I write test questions now, I am more confident that I am really measuring the specific understandings I want the students to learn and carry with them as they leave the door of my classroom.
The write-shop on test construction organized by Mrs. Laforeza Maguate, Ms. Rebecca Gregorio, and Mr. Maximo Cabanlit will last until August 3, and we are expected to draft test questions that can be used for the unified periodical exams for this school year. (For two years now, periodical exams in the Division are being prepared by the supervisors and are administered to all students in Sarangani.) My problem is this: I am alone in the Physics group. I wish physics teachers from other schools will join me tomorrow and on Wednesday so that we can compare each others' work and help each other improve our test questions.
The write-shop is part of the efforts of the Division personnel and of all the teachers in Sarangani to enhance learning among our students and subsequently, and improve our performance in the National Achievement Test. According to the Assistant Schools Division Superintendent, Mr. Socrates Mabalot, the Division ranked 5th among the 9 divisions of Region XII. That is better than last year's result where Sarangani ranked 8th.