WHEN SPEAKING about robots, most people would think that these electric-powered intelligent beings always come in human form with wires and circuits for innards and are capable of turning men into slaves as in the movie series, like Transformers and Terminator. Most of us are unaware that much of today's production lines depend greatly on robots designed to do strenuous and repetitive jobs under conditions that are hazardous to man.
To educate science high school students about robots, the Bureau of Secondary Education has made it a point to always include workshops on robotics as part of the activities in the annual gathering of Regional Science High School administrators, teachers, and students. Although it is still not part of the RSHS curriculum, some RSHSs have already integrated the teaching of robotics to their students, especially those schools that can afford to buy robotics kits that are sold in the Philippines at disturbingly high prices.
Last year, the school was able to purchase one set (LEGO), with extravagant freebies such as an LCD projector and a wide-screen monitor (hence, the price), but we were not able to use it right way because some parts were missing when we checked it against the catalog that came with it.
Just today, the supplier arrived with the required parts and so we decided to test the expensive equipment. I invited 20 students to give it a try. The students built the default models using Lego parts and sensors and practiced programming using the drag-and-drop interface that comes with the kit.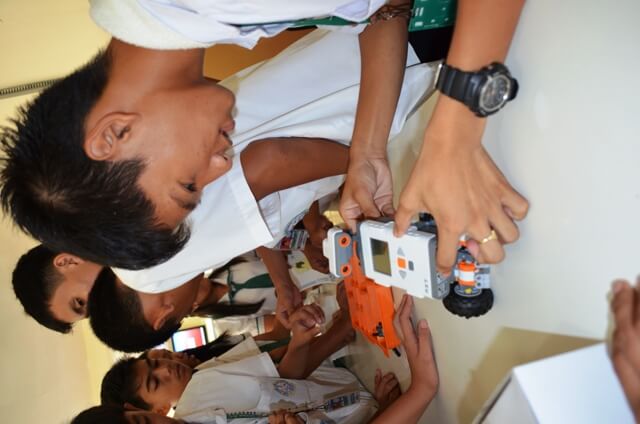 I believe that teaching students robotics is helpful for our students for the following reasons:
It keeps them abreast with the developments in science and technology. As the regional science high school for Region XII, our school has to provide our students with education that enables them to become globally competitive. Offering robotics class is just of the ways we can do to perform this duty.
Students can apply their learning in science and mathematics in the design of their robots. Students learn better by doing. With robotics we can further our vision of the school's pedagogy being one where students do science and math instead of just memorizing theorems and principles.
In order to realize this, it is important for the following steps:
Include Robotics in the curriculum of the RSHS program.
Train teachers on the Robotics program.
Provide affordable alternative robotics kits.
It is important that students are exposed to this technology while they are young. In Steve Wozniak's autobiography, iWoz, he narrated that at six, he was already experimenting with telephony with his neighbors using his father's tools. I realized that if our students play with electronics and robotics early on, one or two of them will most likely become as influential inventors as Steve Wozniak.