I HAVE been very busy in the past few days and I have not been updating this blog. I missing my students, too, because I haven't met them for over a week now due to the co-curricular and extra-curricular activities I participated in. Today is different, though. It is a special one. Even if I am still very busy, I should publish this blog post because today is the World Teachers' Day, I should not miss giving honor to my beloved teachers.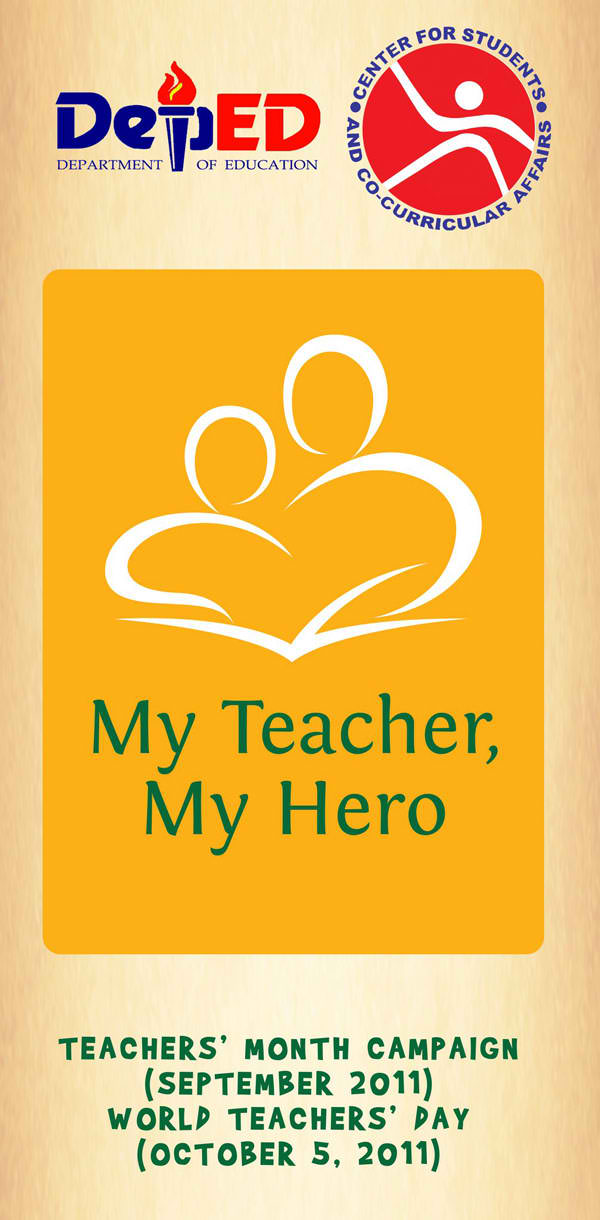 Yesterday, I was invited to speak at the Teachers' Day celebration of my kindergarten alma mater, Alabel Alliance School. So, I had the chance to thank my first teachers. Oh, well, it is hard to describe the feeling of going back there to deliver a speech. I showed the kids a presentation about the most memorable Bible story I have heard during one of our classes in kindergarten, the life of Daniel, and how he stood up for what he was taught despite the pressures. I also shared the memory verses that have served as my guide. I felt very honored for that chance.
Now, I'd like to those teachers who have been part of who I am now:
Pre-School
Dorothy Bayani – She taught me how to read & write. More than that, she helped establish the foundations of my value system.
Jenny Laud – She was very caring. She gave me food when I once lost my baon. She is now in the hands of the Lord.
Nenette Bactol – She taught me how to perform on stage and helped develop my self-confidence.
Elementary
Elisa Alonzo – Grade One teacher. She helped develop my written and oral communication skills.
Liberty Maulion – Grade Two teacher. She made me sing Maalaala Mo Kaya during our Linggo ng Wika celebration. It was my first singing competition and my first failure as a singer, but I never gave up. I won the following year. She also chose me as the lead dancer in her dance troupe. We danced Subli, which we performed for my first out-of-town competition. She followed us through until Grade Six and we won several competitions during that period.
Erlinda Domingo – She taught me the value of hardwork. She was fond of giving rewards to hardworking pupils. She gave me food for every special tasks she gave me — like painting our door, solving the clogged sink, etc. She also gave cash prizes to those who perfect her tests. I always made sure that I perfect at least one of her exams and I always felt like I was the happiest boy in the world at the end of every grading period.
Araceli Dinopol – Grade four teacher. She strengthened my love for learning.
Maritess Batbatan – Science Project Coach. She was my coach for two years. In fact, she was more like a big sister to me than a coach. She taught me how to prepare a science investigatory project. We worked day and night and over the weekends. She also looked for funds so we can attend the competitions. Our efforts paid off when we won in the division competition. I failed in the first regional competition, but won third place the following year.
Edelina Phoebe Andang – Grade five teacher. She had faith in me. She had always encouraged me to not mind what other people are saying about me, and to focus on my goals. She also encouraged me to develop a reading habit, which led to my being an avid visitor to our school learning resource center.
Rachel Milan – School paper adviser. She honed my writing skills. Through her, I developed interest in journalism.
Tita Lomocso – Grade six teacher. She always tells us about her travels. She showed us photos of her trips to different places and made me want to travel, too.
Diosdado Ablanido and Diosdado Sichon – Math teachers and scoutmasters. I would not have learned about about fractions, ratio and proportion, compass reading, survival skills, among others, if not for them. They also helped boost my self-confidence by giving me special tasks during the jamborettes.
Yolly Eileen Gamutan – School nurse and Health Club Adviser. The Health Club was the first school organization I handled. I was the president when I was in grade five. She helped develop my leadership skills. We worked overtime for the projects of the Health Club. She entrusted to us the task of evaluating the condition of the classrooms in the campus and we ran a search for the cleanest classroom. Also, I learned how to use the computer because of her.
PO1 Argie Ang – D.A.R.E. Instructor. She was our Drug Abuse Resistance Education instructor and the adviser of the DARE Club, of which I was also the president. She was a very cool adviser and taught me how to be level-headed in solving problems.
Rosalina Gabinete – Badminton coach. She was a disciplinarian. She had rules that I did not regret I obeyed.
Chirly Villafuerte – Science Quiz and Science Project coach. She had a constructivist way of training me. Her gentle, motherly demeanor was a plus.
High School
Aleli Dasmarinas – First year adviser (first few months) and Filipino teacher. I will always remember her lessons in Filipino. I have even used some them in answering the questions in our licensure examination. Most of all, she taught me how to distinguish between play and serious stuff and that intelligence is nothing without diligence.
Shiela Butil – First year adviser and Research teacher. She taught me the importance of being trustworthy. I was the class president and she always pointed out the accountability of the officers.
Annabel Erolon – Second year adviser, English teacher, and school paper adviser. She further developed my love for writing and speaking. Now, she is a mentor in campus paper advising.
Daniel Zabala – Third year adviser, Math teacher, and Scoutmaster. I went to college confident of my foundation in mathematics. It was because Sir Dan gave justice to the subject. We also went to several camping activities, where I learned how to face difficult survival challenges by using a survival watch and the environment to properly prioritize decisions.
Jasmin Andang-Angie – Statistics teacher. She is a very organized person. When she assigned me as a reporter, she provided the instructional materials I needed. I admired her because of it. Until now, I look up to her because of her promptness in the completion of the reports teachers have to submit.
Romeo Casalan – Earth Science and Chemistry teacher. He always reminded us that attitude always comes first and that wherever life takes us, and that we should always keep our feet on the ground. There is one moment I could not forget until now. One of the activities we did in class came out during the regional chemistry quiz. He was very proud of when I got the second place. He gave me a treat after that.
Conchita Medelo – Fourth year adviser, Biology teacher, SSC adviser, and JEM adviser. If there is one teacher I revere, it is Ma'am Ching. She is the terror teacher you would love to have. You will hate her while you are her student, but you would later on realize that she only wanted you to learn the right values. It is no wonder why the alumni would really look for her when they come back to visit the school. I had a hard time as the Supreme Student Council president because everything I did did not seem to please her. I realized later that she wanted me to go beyond what I can do and to think of projects beyond the traditional ones. I have always kept that in mind. I could say that I have learned a lot of leadership values from her being our SSC and Junior Ecologist Movement adviser.
Ryan Sajot – Physics teacher. Had he not shown me how wonderful the world of physics, I would not have taken it as my major. Moreover, had he not decided to teach abroad, I would not have become a teacher at Alabel National Science High School. Lol.
The names I listed above are only some of the people who have helped shape who I am today. Today, let me honor these people from the bottom of my heart.
My dear teachers, you are my heroes. Now that I chose to become a teacher, I hope I can repay you by being a hero to other people's lives as well.
Happy teachers' day!