THE TEACHER'S Notebook celebrates it's First Anniversary this September. Incidentally, September has also been set by the Department of Education as Teacher's Month . It's a double celebration, therefore, for The Teacher's Notebook.
In celebration of these events and in preparation for the World Teacher's Day on October 5, The Teacher's Notebook launches the "Thank You, Teacher" Blogging Contest.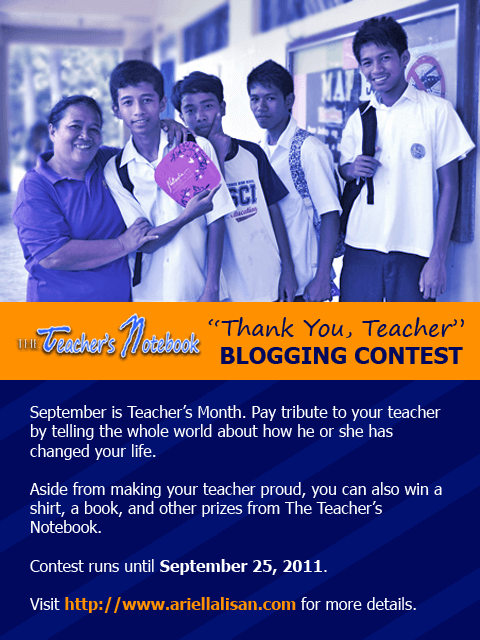 CONTEST MECHANICS
The contest is open to everyone who has a blog.
Write a blog post about the teacher or teachers who has/have greatly contributed to your personal development. Explain in your blog post how your teacher(s) has/have influenced or inspired you.
Add the following text and link at the end of your blog post:
Add The Teacher's Notebook in your blogroll.
Subscribe to The Teacher's Notebook's RSS Feed . (Make sure you check your email afterwards to confirm subscription.)
Leave a comment to this blog with the link to your post.
Share your blog post to others.
The deadline for submission is on

September 25, 2011

October 1, 2011.
The top 5 best bloggers will win a t-shirt from The Teacher's Notebook and the best entry will win Yeng Remulla's Productive Pinoy book which comes out in the market this September.Other special prizes will be announced later.
UPDATE: Non-bloggers can also participate in the competition by "Liking" this post or sharing this on your FB/Twitter/Tumblr accounts and leaving a comment below. The best comment can also win a book and a shirt.
Join this contest and honor your teacher.